Andy Lopez Memorial Award and Scholarship for Outstanding Allied Health Professional of the Year in TB Control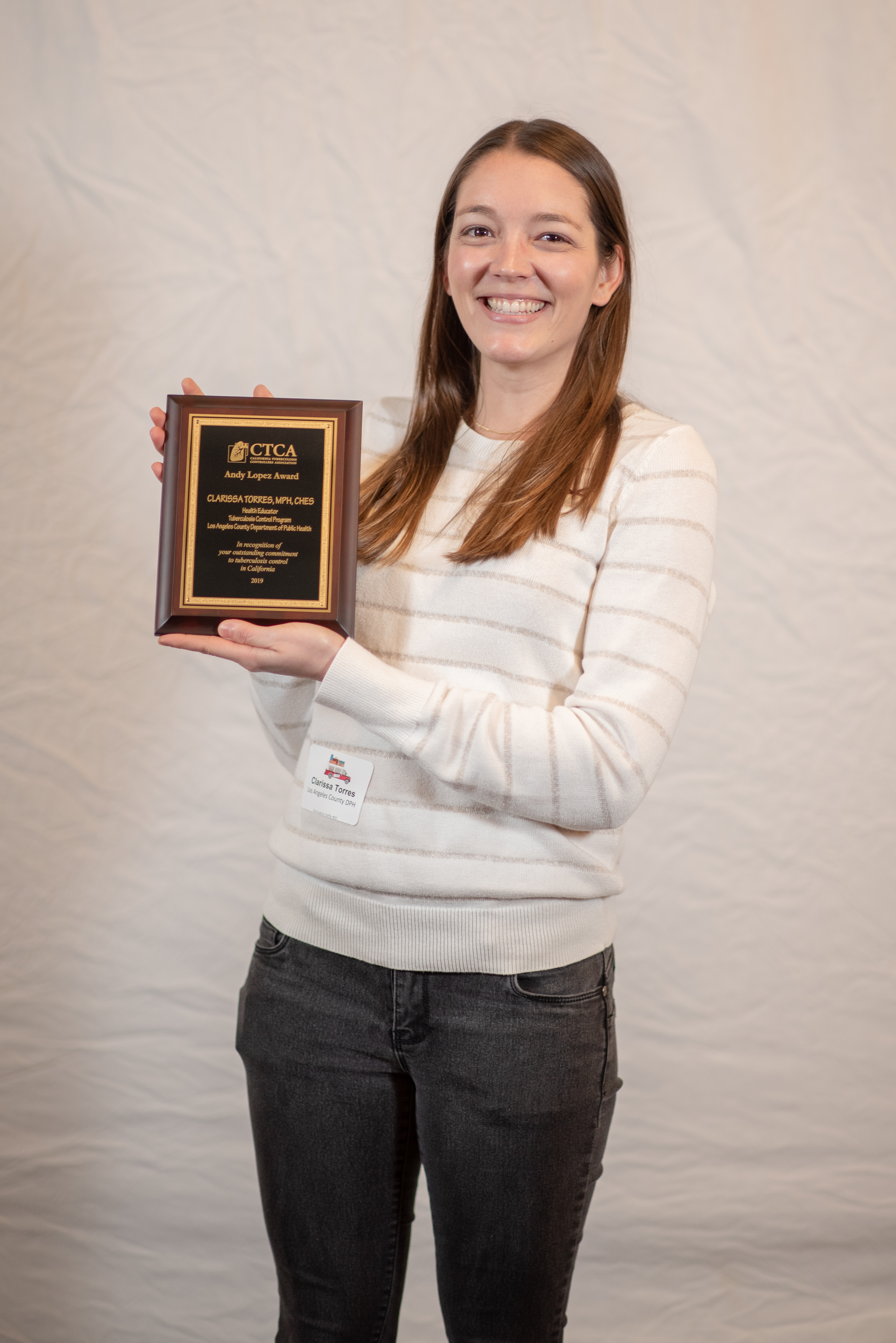 Claire Torres, MPH, CHES
2019 Recipient
---
Previous Recipients:
2018 Anna Pritchard – Imperial County
2017 Doualy Lo, Van Dang, and Cindy Ong – San Joaquin County
2016 Lauren Linde – Los Angeles County
2015 Carmen Maria Lopez – San Joaquin County
2014 Candy Box – San Francisco County
2013 Antonio Gomes – Santa Barbara County
2012 Rosalia Schollar – Napa County
2011 Mark Condit – Contra Costa County
2010 Araceli P. Robles – Ventura County
2009 Abe Sanchez – Orange County
2008 Linh Bui – Orange County
2007 Irene Lerma – Riverside County
2006 Neng Yang – Sonoma County
2005 Maria Pasillas – Stanislaus County
2004 Graciela Espinoza – Long Beach County
2003 Houmpheng Banouvong – San Francisco County
                                                                                    2002 Lilly Liang – Santa Clara County
                                                                                    2001 Guadalupe Sanchez – Imperial County
                                                                                    2000 Charles L. Primous – Contra Costa County
Andy Lopez had a distinguished public health career in California for over 20 years. For over 12 years he worked directly with many local TB programs throughout the state. He had many years of field experience and extensive knowledge of local TB program issues. His untimely passing on Father's Day 1999 was felt deeply within the TB Control community. 
To honor Andy's memory, recognize the contributions of Allied Health Professionals (AHPs) to TB prevention and care activities in California, and support ongoing training and education of AHPs, the Andy Lopez Memorial Award and Scholarship will be awarded each year to one outstanding AHP working in TB control in California.   
All Allied Health Professionals (Public Health Advisors, Disease Intervention Specialists, Communicable Disease Investigators/Specialists, Community Health Outreach Workers, Epidemiologists, Social Workers, etc.) are eligible. Nominations can be submitted year round.  They are reviewed by the Nurses and Allied Health Professionals Forum volunteer leadership. Award recipients receive registration, travel and hotel support to attend conference and receive their award. 
2020 Andy Lopez Memorial Award and Scholarship for Outstanding Allied Health Professional of the Year in TB Control Nomination Form Deadline March 6.