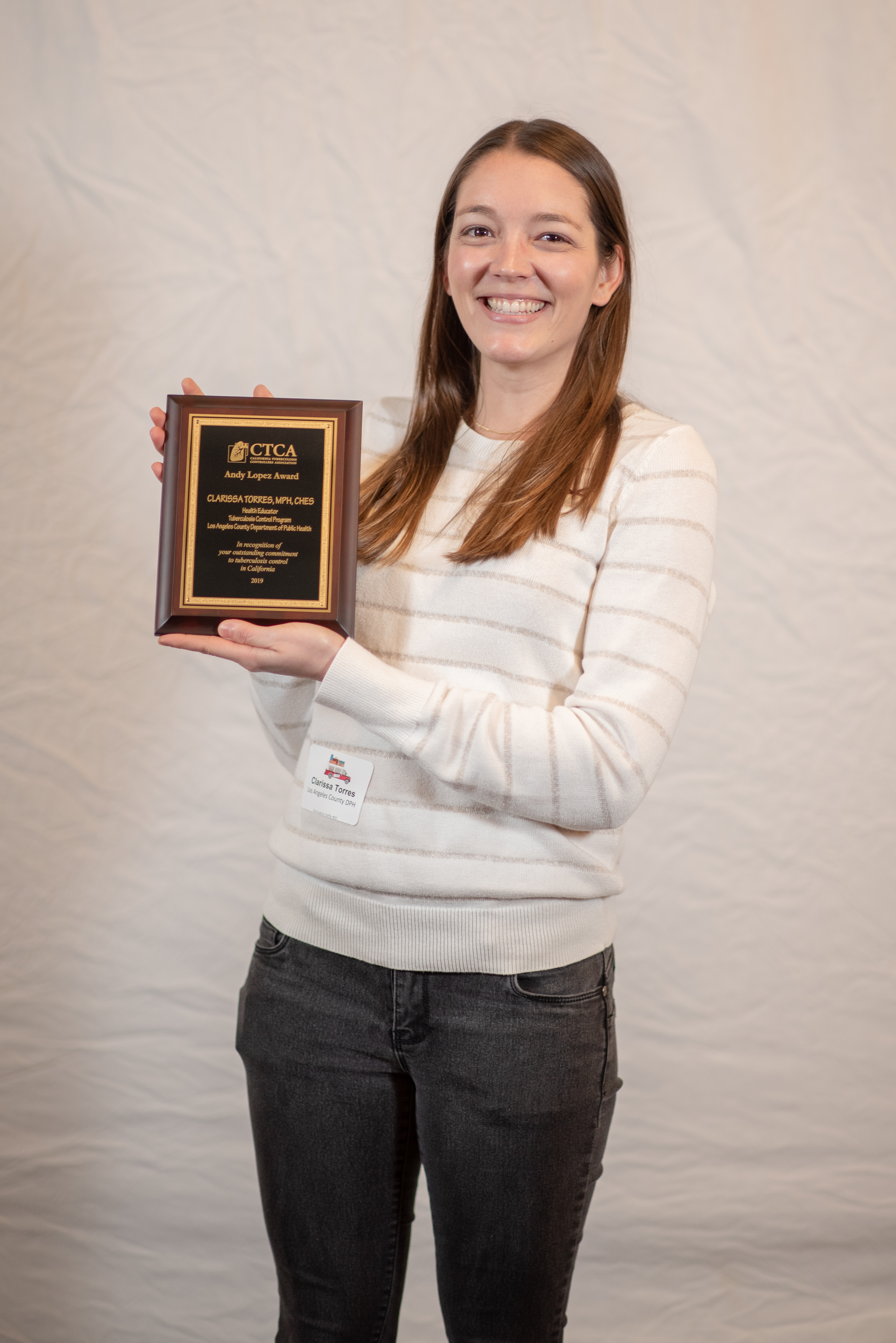 Claire Torres, MPH, CHES
Current Recipient
---
Past Recipients:
2018 Anna Pritchard – Imperial County
2017 Doualy Lo, Van Dang, and Cindy Ong – San Joaquin County
2016 Lauren Linde – Los Angeles County
2015 Carmen Maria Lopez – San Joaquin County
2014 Candy Box – San Francisco County
2013 Antonio Gomes – Santa Barbara County
2012 Rosalia Schollar – Napa County
2011 Mark Condit – Contra Costa County
2010 Araceli P. Robles – Ventura County
2009 Abe Sanchez – Orange County
2008 Linh Bui – Orange County
2007 Irene Lerma – Riverside County
2006 Neng Yang – Sonoma County
2005 Maria Pasillas – Stanislaus County
2004 Graciela Espinoza – Long Beach County
2003 Houmpheng Banouvong – San Francisco County
2002 Lilly Liang – Santa Clara County
2001 Guadalupe Sanchez – Imperial County
2000 Charles L. Primous – Contra Costa County
This is awarded annually to an outstanding Allied Health Professional in a TB Control Program in California to honor the memory of Andy Lopez, a beloved member of the California Department of Public Health TB Control Program team. All Allied Health Professionals (Public Health Advisors, Disease Intervention Specialists, Communicable Disease Investigators/Specialists, Community Health Outreach Workers, Epidemiologists, Social Workers, etc.) are eligible to receive the award. Nominations are submitted by local health jurisdictions to the Nurses and Allied Health Professionals Forum, in advance of the annual educational conference each Spring.