World TB Day 2018
On March 24, 1882, Dr. Robert Koch's discovery of the TB bacillus. One hundred years later, the World Health Organization (WHO) and the International Union Against TB and Lung Disease (IUATLD) celebrated the 100th anniversary of this landmark in the fight against TB, establishing March 24th as an annual opportunity to call attention to the devastation TB still causes, and the commitment it will take to end TB.
San Diego
In Search of Former Patients of the Vauclain Home Tuberculosis Sanatorium or Other Sanatoriums in  San Diego County to Participate in the Tuberculosis Survivors Network
County of San Diego Tuberculosis Control Branch invites TB patients or family members of those who spent time at the County of San Diego Vauclain Home Tuberculosis Sanatorium or another county area sanatorium during the 1940s, 50s or 60s to a Tuberculosis Survivors Network celebration on Friday, March 23, 2018, 10 AM to 12 PM. The meeting will be held at the County Rosecrans Health Services Complex, 3851 Rosecrans Street, San Diego/ TB survivors, share your stories and provide your ideas on how to better serve current patients that are experiencing the same journey to wellness. For more information or to RSVP, please contact Yolanda Lopez through the contact us button below.
San Francisco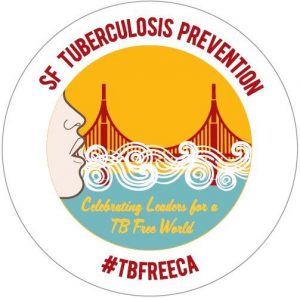 San Francisco: 
SF WTBD 2018 Media Packet (Updated 3/21/18)
On March 22, 2018 SF TB Program co-hosted a media event to honor the North East Medical Services network of community health centers as a leader in the work taking place in San Francisco to end TB, modifying the Stop TB Partnership theme, and Celebrating Leaders for a TB-free World. This event was followed by a third annual SF Walk to end TB. SF City Hall will be lit in red on 3/27.
Logo Design by Freelance Designer, Marie Hunkele. Linked In Email: designmuse@mac.com
Santa Clara
TB Free CA Project
TB Free CA offering the following logo, and logos with local health jurisdiction names below California. Click on the logo below to read about the design and possible uses.  Please make your request directly to TB Free CA Project, or through the Contact Us link below. There are also options for purchase using this logo, linked here.