Previous Recipients:
2018 Michael Carson, MS
2017 Jan Young, RN, MSN
2016 Lisa Chen, MD
2015 Karen Smith, MD, MPH
2014 Susan Sawley, RN, PHN
2013 Gulshan Bhatia, MRCP (UK), DTMH
2012 Julie Low, MD
2011 Edward P. Desmond, Ph.D.
2010 Karen Furst, MD, MPH
2009 Jennifer Flood, MD, MPH
2008 Kathleen Moser, MD, MPH
2007  L. Masae Kawamura, MD
2006  Francie Wise, BSN, MPH
2005  Robert Benjamin, MD, MPH
2004 Thomas E. Cole, MD
2003 Charles Crane, MD
2002 Barbara Cole, PHN, MSN
2001 Tony Paz, MD
2000 Sarah E. Royce, MD, MPH
1999 Brenda Ashkar, MSN, RN
1998 Hanh Quôc Lê, MD
1997 Nicholas Toth, MD
1996 Thomas S. Moulding, MD
1995 Gisela Schecter, MD
1994 Edward G. Lopez, MD
1993 Cutting B. Favour, MD
1992 Paul T. Davidson, MD
1991 Barry S. Dorfman, MD
1990 Edwin P. Brauner, MD
1989 Francis J. Curry, MD
1988 Philip C. Hopewell, MD
1987 Robert D. Rowan, MD
1986 Margaret B. Blum, MD
1985 Matthew O. Locks, MD
1984 Henry A. Renteln, MD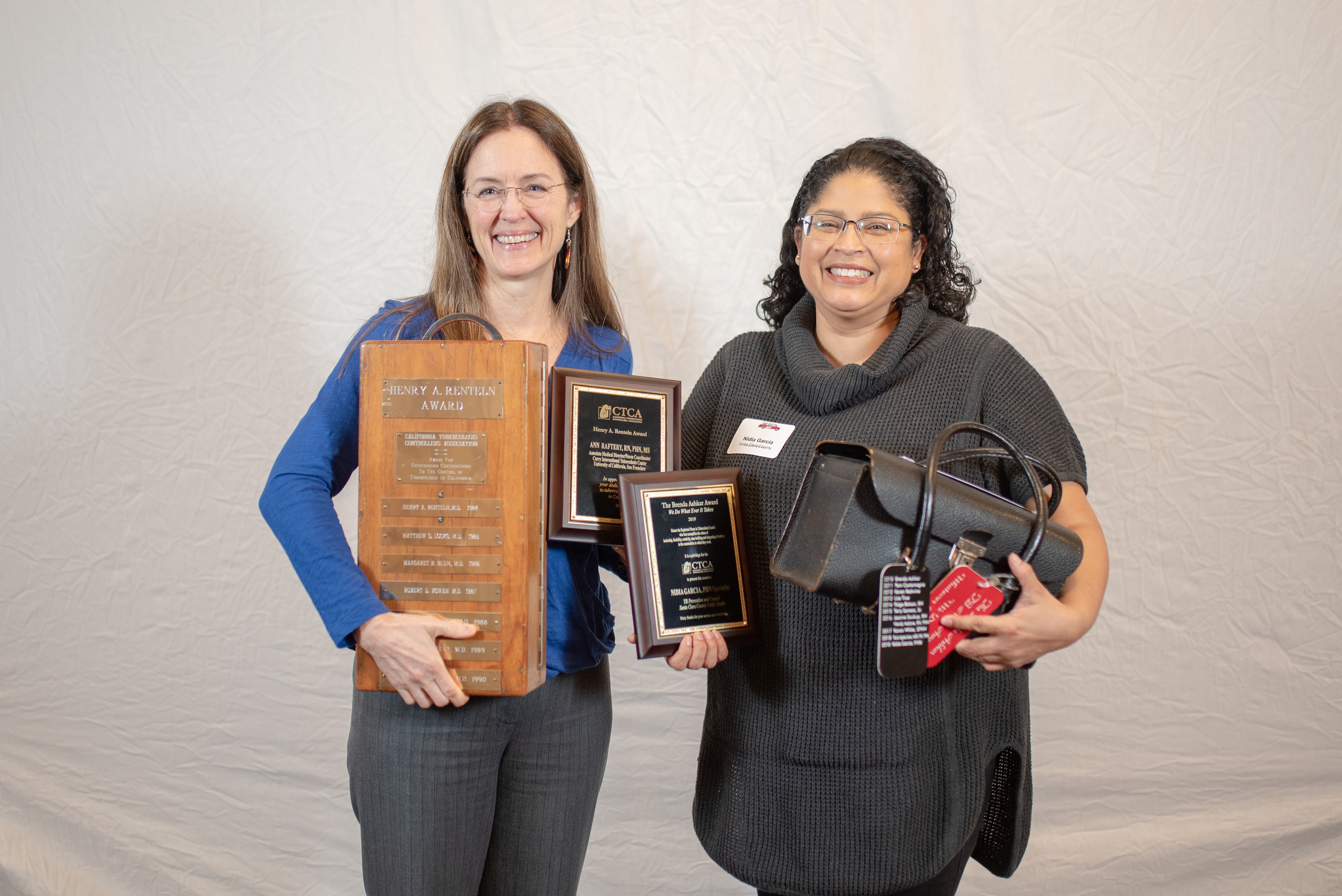 Established in 1984, the Henry A. Renteln Award has been given annually by the California Tuberculosis Controllers Association to a California practitioner or public health official who has worked in TB control for more than 15 years and made significant contributions to TB control for Californians.
Henry A. Renteln, M.D. 1922-1997
Dr. Renteln was the first recipient and the Award was named in his honor because of his many years of tireless work, often alone, to maintain a functioning TB control program in California at a time when TB was not "fashionable" and a strong advocate was needed at the State level to preserve resources for managing TB. Dr. Renteln was the State TB control program, providing field support in outbreak investigations, training programs on TB control, data analysis, and expert consultation as a one-man show.
In his later years, many of us grew to know and admire Henry in his second public health career at the San Francisco health department. He is remembered as a thoughtful, witty, and erudite coworker with a very broad interest in the world around him. Although Henry had significant health problems in these years, he never dwelled on them and always showed up with his beret at a jaunty angle.
Dr. Renteln was born in 1922 in Berlin, the son of Russian/Estonian refugees who had fled from the Bolsheviks. Despite being a Russian national, he was drafted into the German Army during WWII and was wounded on the Russian front. He survived the war and completed his medical studies in Munich in 1948. His sense of adventure, as well as his status as essentially a man without a country, took him to the practice of medicine in rural Iran. In 1953, he emigrated to the United States (well, actually to Berkeley).
He began his career with the State of California Department of Health Services in 1957. He served as Chief of General Epidemiology from 1959 to 1968, then took a leave and worked for the USAID in Turkey and India. He returned to the State as Chief of TB Control from 1970 until October 1983. That year he retired from the State and, acting on his long interest in the Middle East, worked for a year in Saudi Arabia. In January 1985, finding that he still wanted to be a part of public health, he began working as Deputy Director of the Communicable Disease Control Bureau for San Francisco. After his second retirement in 1987, he continued to serve until 1992 as a part-time consultant to the TB Control Division of San Francisco, assisting us with the early development of our computerized data management and record systems as well as evaluating our school entry TB screening program.
For those of us who knew Dr. Renteln, he is sorely missed as a mentor and friend.
– prepared by Gisela Schecter, M.D., M.P.H., 1995 Henry A. Renteln Award recipient